Apologies for the long pause. Too much Airstreaming fun, not enough time to blog it…
The journey back from the Hebrides was sweetened by a couple of days at the lovely CCC site in Sandringham. Not only did this provide a great opportunity to collect some pine cones for the woodgas stove (they make great firelighters when dried out!) but the wind blew a hooley that weekend providing some fabulous kitesurfing sessions in Hunstanton. Sunday's session was cruelly cut short by the '12 o'clock rule' despite the 100-odd empty pitches, but I'm not bitter and I think that's important.
After a few days at home worshipping my washing machine it was time to head off for the next holiday. Sorry, that should read 'assignment'. I would hate anybody to think that I have fun for a living.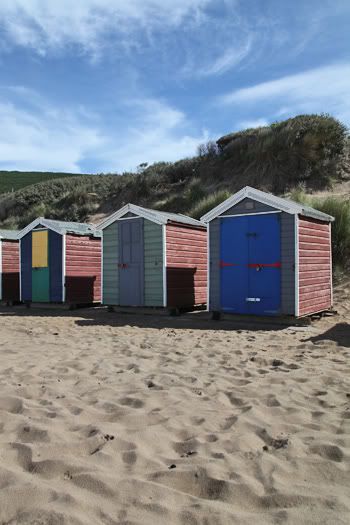 I was excited to be heading for North Devon as it's a county I do not know at all. Destinations were three sites grouped around Ilfracombe and Woolacombe. Trying to make efficient use of my time, I also trialled a couple of cars at this time, and down fell my plan.
It is a known issue that the electronics in some swanky cars have 'bulb failure' systems so that when plugged in to a trailer, the car sends pulses of electricity around the trailer to keep checking the status of the lights. The trouble is, when the trailer lights are cool LEDs, the car doesn't detect them and sends the whole trailer into a mobile version of the Caribbean Disco Show. Brand spanking new cars like the Land Rover Disco 4 have software upgrades to prevent this, but older technology as we discovered in the Volvo XC60 and a three year old VW Taureg do the disco-lights thing. Thankfully, European Airstreams may be specified with 'normal' road lights in case this happens, but I like the LEDs. And so does my Nissan Navara.
With no known software fix to the car, there was nothing else for it but to strap a trailer board to the back of my Airstream. It didn't look pretty, but we were legal.
First site was Damage Barton Caravan Club Affiliated Site. This is a great site. Very Airstream-friendly with spacious pitches, each offering a panoramic sea view: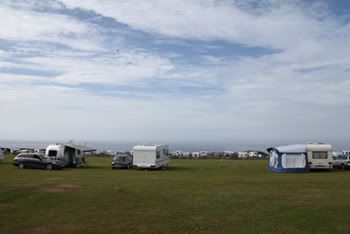 It takes about 30 minutes to walk to the beach from the site. Naturally, it's very popular with families and it's the kind of place where you discover caravanners who have been returning there every summer for over 30 years. I really really liked the site's feeling of space, the views, and the friendly staff, but be aware that the payback for those views is the exposed location.
For a more sheltered experience, the all-singing all-dancing Caravan Club Site at Willingcott is down the road:
It was at Willingcott I had a welcome that I will never forget. The warden's welcoming smile wasn't just bright. If she went outside on a rainy day and smiled she would bathe the entire site in sunshine.
With all the great beaches in the area, ideal for surfing or bodyboarding, the sight of wetsuits hanging up to dry outside caravans is quite common: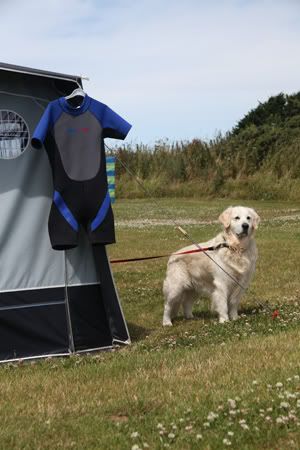 Next stop was the chilled, relaxed, facility-free Caravan Club Site at Brook Lea: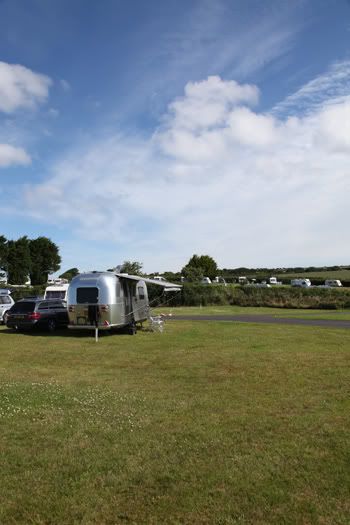 Really nice. I particularly like the way that at this site, the neat and tidy pitches comfortably roll into the more natural landscape.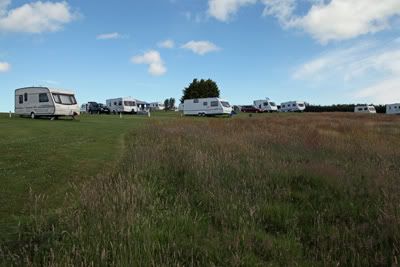 Naturally, being so close to the beach meant that I had to go and partake of a little bit of kitesurfing. Woolacombe beach is very neat but there's not lot to the area itself. I much preferred the large, extensive beach at Saunton: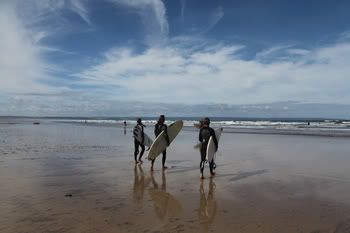 All that space on offer meant that there was a reserved area for kitesurfers away from the paddling families and surfers, meaning that everyone could enjoy the water. I LOVED jumping the Atlantic swell and riding the waves. It was fantastic.
It was so good that I got up at 6am, yes, 0600 in the morning on a Sunday, to go and make the most of it before the wind dropped.
Nearby is the charming little town of Ilfracombe. Despite a few negative comments I had previously heard, I really really liked Ilfracombe. It's a fairly unspoiled Victorian seaside town with a scenic little harbour: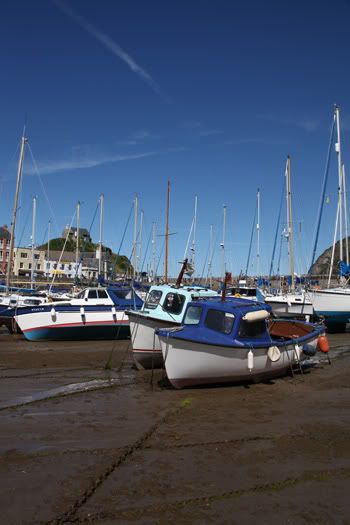 Interestingly, there is very little beach there as there are hills and rocks in the way, so a hundred years ago tunnels were dug through and pools created for the Victorian bathers. 'Tunnels Beaches' is an interesting place, and under the English summer sun took on the air of an Italian lido. Lovely!
A little less lovely was the neighbouring Cafe Blue. It was one of those cafe bars with stylish decor and a decent coffee machine that looks really nice - and it is - but at 2pm most of the menu was 'off' and I was left sitting over 30 minutes for a cheese sandwich when it wasn't that busy. The manager spent most of his time looking trendy on his Mac rather than sorting out the fiasco in the kitchen and the staff were unapologetic. Definitely one to miss.
But of course, being in Devon means that a cream tea is an absolute must. Opportunities present themselves on every corner to indulge, but a stone's throw from the harbour is where the locals and the fishermen go. Adeles Cafe (www.adelescafeilfracombe.co.uk) is well worth sniffing out for the fabulous service and the wonderful home-made cakes:
All in all a great time was had, and I wish I could have stayed longer and enjoyed the area in a bit more detail.
Bit it was time to roll and head to Baltic Wharf CC Site in Bristol. This year the site has had a change of wardens, and the new couple Mick and Lynn are absolutely lovely. Baltic Wharf is fabulous - great little site in a great location, and the flower display that Mick and Lynn have done is stunning… a kind of Bristolian version of the hanging gardens of Babylon.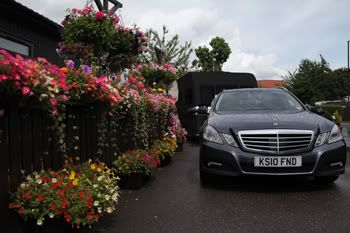 I was there to do a 'pre-launch' job, so the caravan has been blacked out to honour embargoes.
From there it was time to head back home for a few days, and once again become at one with the washing machine.
Laundry done, we're back on the road for another six weeks. Aye, Life is Good!