Since Devon, life's been good if not all that exciting... just attending to everyday stuff and of course having to go to work (EEK!) so the Airstream has been little more than my sanctuary in the evenings.
Best then go back to the trip home from Scotland at the end of June.
My friend Gary has always been on at me to visit his home county of Northumberland, so I did just that. Gary rocked up in his classic CI Sprite.
We stayed at a very nice CCC site, the name of which now escapes me. Friendly staff. And only about £7 a night for a single person without a mains hook-up, so a bargain to boot.
Gary suggested a few days out, and it was the Garden at Alnwick that particularly tickled my fancy. Like all good gardens, it's a work in progress and far from finished. But it's actually quite refreshing that the Duchess of Northumberland has 'vision' for the future, as opposed to the current trend of the 'Instant Garden'.
A lovely day was had.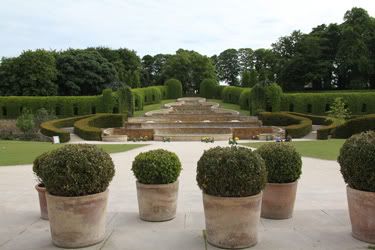 The next day we went up the coast to Bamburgh. We took lunch in the garden of a lovely little tea-room, and a coach party of 'game' pensioners arrived. As we listened to the wit and wisdom of the old dears, Gary and I were in fits of laughter. We weren't laughing AT the people, we were laughing with them. Quote: 'What? They come and take the order at the table? Ooh, you don't get that in Rugby!' and so on. It was like a real life version of a Victoria Wood sketch and after an hour we were almost crying. It was so lovely, so English, and the subtle but hilarious humour that only a true Brit would understand.
We had a pleasant, sun-scorched afternoon: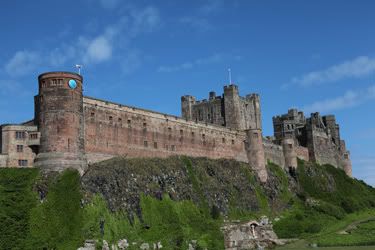 However, after a couple of nights it was time to head South and start work.
As I headed down the A1 back to reality, there was time to pull over for just one last photo with the Airstream, to 'sign off' an amazing few weeks.