Earlier in the year, a couple of Dutch Airstreaming families mentioned to their English Airstreaming friends that they were coming to the UK for their holidays in August.
John and Carole decided to meet up with them, and publicised the fact on the
UKAirstreamers Forum.
In short, a grand total of EIGHT Airstreams descended at
Masons Campsite
in the Yorkshire Dales.
As I wended my way to the site, I was blown away by the beauty of the area. Why had I never been here before?
As I skirted the opposite side of the valley to the campsite, I looked below me and saw Airstreams glinting in the distance in the evening sun.
The eight Airstreams on site were: two from the Netherlands, and six from the UK. There were three modern European Airstreams, three polished 'vintage' Airstreams, and two clearcoated US Airstreams.
Pitched in a circle, what a lovely sight we made: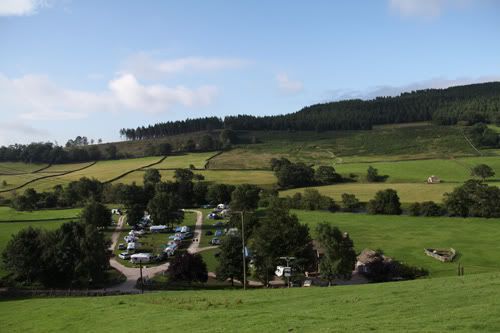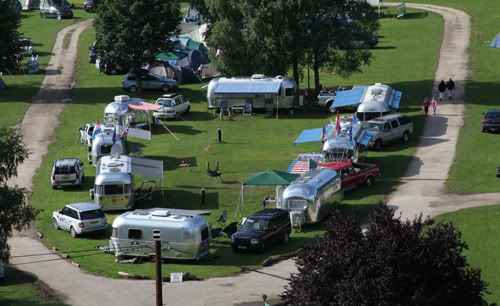 That first evening was spent chilling out around fire pits and barbecues. Ian and Robina, whom I had met last year in Skegness by pure chance, invited me to join them and what a lovely evening we had.
The next day, weather was a mixed bag of sunshine and showers. But that didn't stop Carole and John laying on a fabulous cream tea for everyone. Carole's scones, I am pleased to say, were of her usual VERY high standard! Light, fluffy, and melt-in-the-mouth with lashings of clotted cream and jam.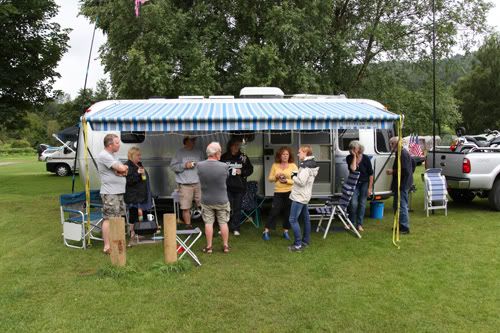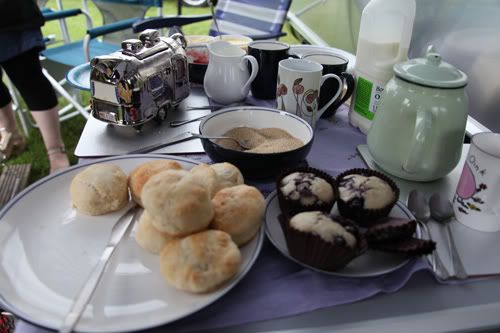 For our Dutch friends, it was their first cream tea and first experience of clotted cream. And very impressed they were too!
The rest of the day was spent enjoying the day and enjoying each other's company: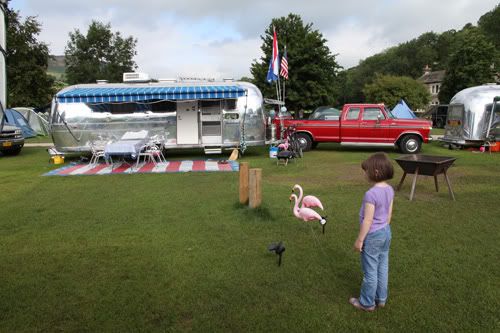 Axel and Anieta had the longest Airstream I have ever seen in real life... it just went on and on and on!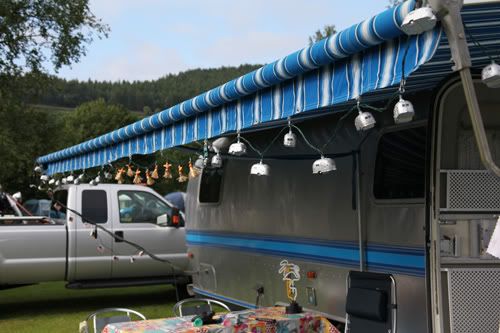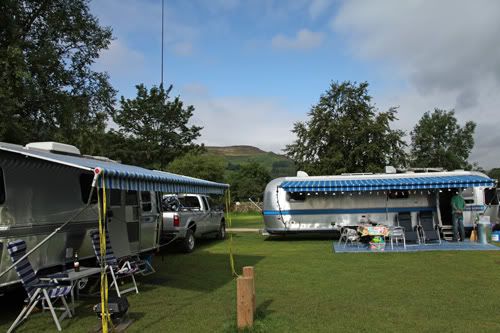 Piet and Kai's amazing rig was a real head-turner and I couldn't stop taking snaps of it: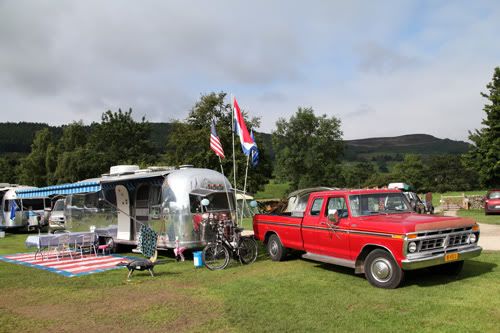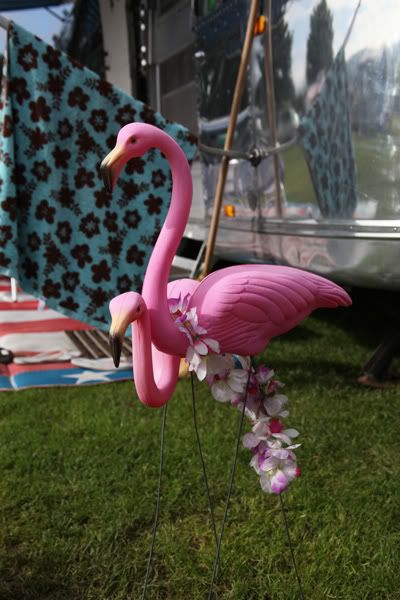 Of the three European models on site, the 532s were in the majority and the 684 in the minority... the first time I have ever known that!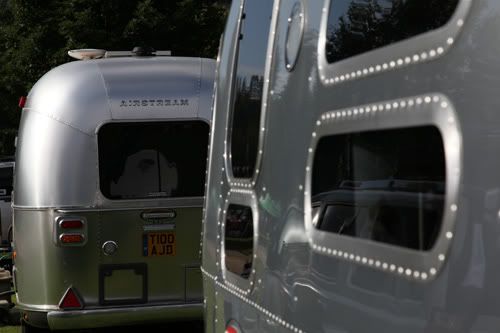 And I fell in love with Harry.
Harry and his sister Meg brought their gorgeous little Bambi: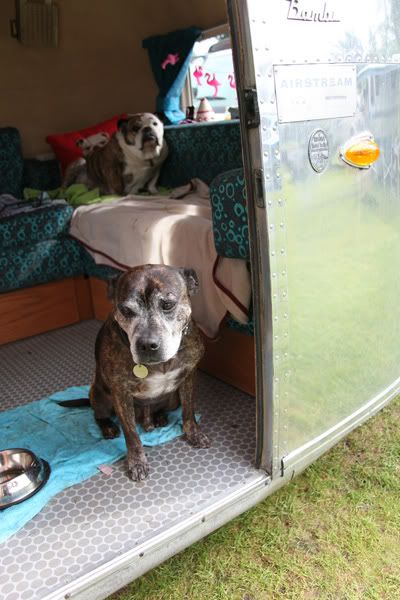 Harry stood guard, threatening anyone who came within 2 yards with a lashing from his wagging tail and a thorough licking around the chops:
Meanwhile, Meg sat inside on her throne, and put on her 'happy' face for the camera:
As they were feeling particularly benevolent this weekend, they allowed their staff, Jim and Kathy, to join them: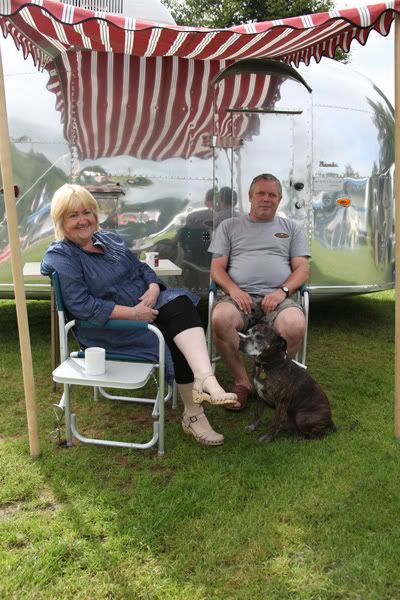 And Kathy might be new to Airstreaming, but she obviously 'gets it' already: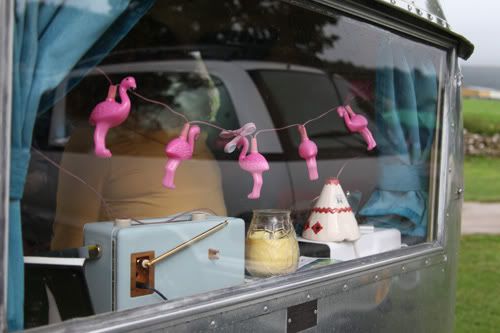 Another 'new' family joining us for the first time were Neil and Jo with children Ruby, Jack, and Freddy. They found out about the gathering purely by chance, having stayed at Mason's in their 'new' 1965 Overlander a couple of weeks previous. The kids in particularly liked the riverside location of the site: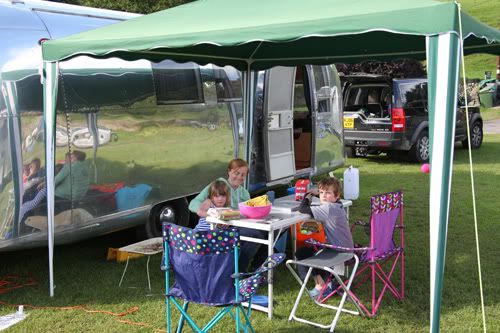 And the last night was spent, of course, gathered around the fire pit. A torrential downpour failed to dampen the spirits as we merely covered the fire with Neil's gazebo. That evening many people discovered that the Dutch and the English have a similar sense of humour.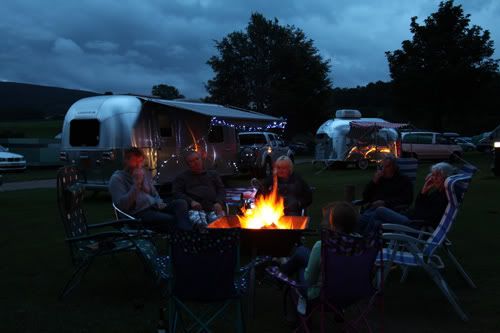 Particularly touching was a little parting gift made by Sven and Lynn, Axel and Anieta's children.
Neil and I left in convoy, with Bill going on ahead to make sure the narrow section of the road was clear before we left.
What a BRILLIANT time we all had! Big thanks to John and Carole for making it happen.