I don't know whether it's to do with the slightly complicated approach route or the fact that you really need to use the car when going off site, or possibly because it is a site of gargantuan proportions, but you'll normally find a pitch at Alderstead Heath, no matter how busy the season. "There's always Alderstead...' is an oft-used phrase when my caravanning chums and I are planning a get-away.
And so it was, August bank holiday...
There's always Alderstead. And thank goodness. It is SUCH a lovely site, so green, so peaceful, and Carol and John the wardens never fail to have a warm and welcoming smile plastered over their faces every time I see them. They even know which pitch I like... oh dear, is that the sign of liking one particular site a little TOO much?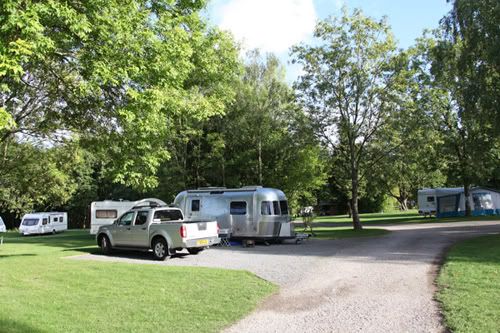 This pitch, for your info, is not numbered. It is simply 'Andrew's Pitch' so if you ever visit and it's free, don't even THINK about parking there... ;)
Of course, work needed to be done, and Alderstead made the perfect setting for a couple more accessory videos. You may hear if you choose to watch the second, that all the fun and antics of a busy summer caught up with me, and a summer cold took hold. But not for long.
I had a very, very important date with another 29 Airstreamers the following week, and being poorly wasn't an option.
Rock and roll!