2011:
As a break from regular blogging, here's an entry that's a little different - A practical guide rather than a diary-type entry.
I thought that, after four trips to these magical islands with my Airstream, I should share a few details for those wishing to plan their own caravanning trip.
Situated off the North West coast of Scotland sit the remote and beautiful isles of the Outer Hebrides, or the Western Isles to give them their correct name.
If your perfect holiday encompasses wild, rugged, remote outdoors, then the Outer Hebrides will be Paradise on Earth. If you prefer shopping, clubbing, and amusements, then this is not the place for you.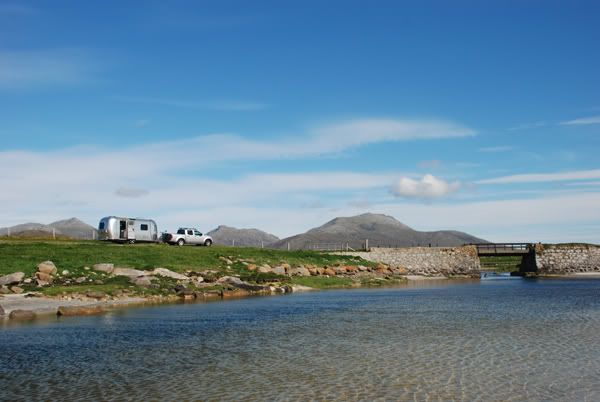 There are many, many islands in the Outer Hebrides, but of the populated islands there are three main groups, starting with the largest in the North and ending with the smallest in the South:
Lewis & Harris
Technically one island, but these two lands have a totally different feel. Stornoway, the largest town in the Hebrides, is in Lewis.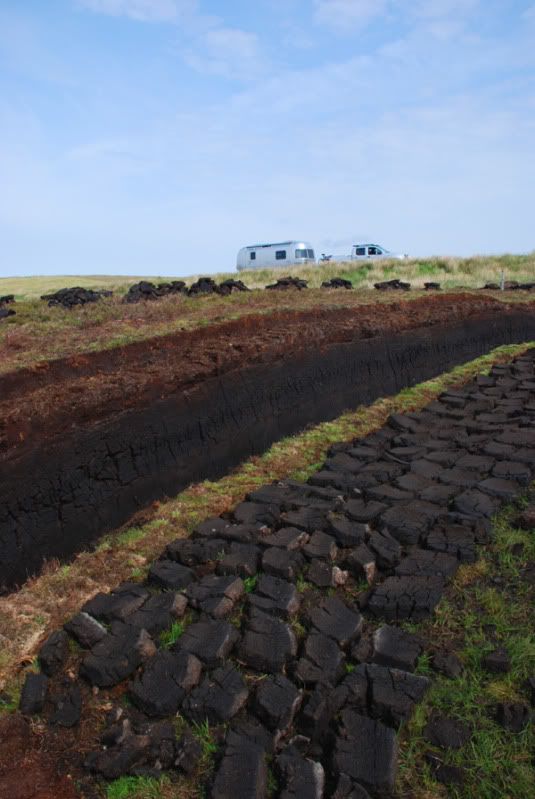 The Uists
Seven islands for seven days, all interlinked by toll-free causeways. The three major islands are North Uist, Benbecula, and South Uist, while the four smaller islands are Berneray, Baleshare, Grimsay, and Eriskay.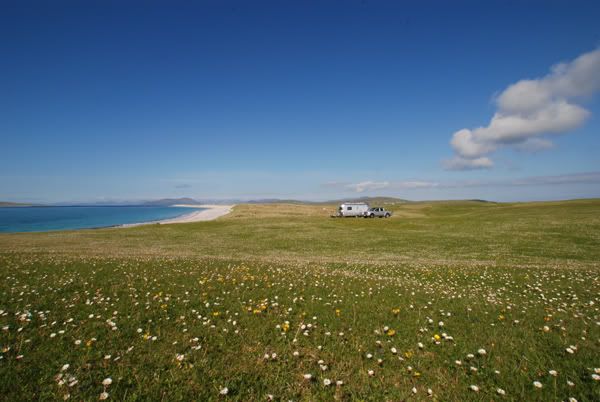 Barra
Known as 'The Hebrides in miniature', this compact island offers all terrains in one handy package.
The Inner Hebridean island of Tiree also gets a mention as it is on the route of the Oban - Barra ferry (summer Thursdays) making for a further possibility.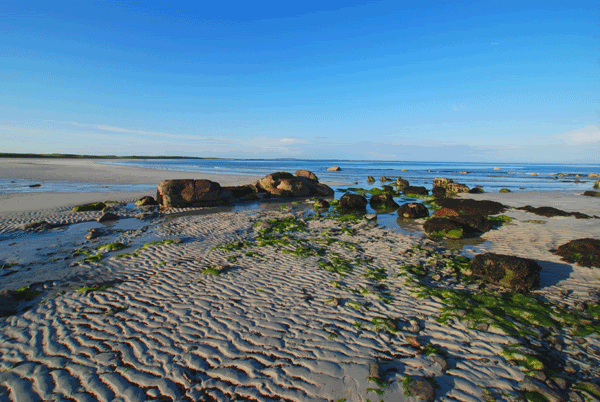 HOW LONG HAVE YOU GOT?
For many people, it's a long slog to get there, so it's worth investing at least a week, but preferably three or four, in your stay. Suggested for different lengths of stay are:
LESS THAN A WEEK
Barra. You can taste it all without travelling about too much. Possibly do four or five days on Barra and three or four days on Tiree.
TWO TO THREE WEEKS
Lewis, Harris, and the Uists.
THREE TO FOUR WEEKS +
Lewis, Harris, the Uists, Barra, and Tiree
GETTING THERE
Caledonian MacBrayne is the only ferry operator serving the islands, offering a fixed price tariff. The price remains the same whether you book a year in advance or 5 minutes before the ferry leaves. Prices are therefore a little higher than you may expect against some of the Bargain Basement 'Buy-three-years-in-advance-and-travel-at-3am-on-a-Tuesday-in-February' type prices that you can get on international routes, but the upside is that you can buy single tickets along the way as you decide your itinerary, In other words, you have flexibility and freedom.
If you do book in advance and your plans change, you may change your reservation with no fee.
The only thing that does go up and down is the availability on ferries. If your time is short and dates are fixed, book as far in advance as you can. If your plans are fluid and your itinerary flexible, there is less need to book.
Bear in mind that if you want to travel between Tiree and Barra, there is only one ferry a week on a Thursday and this can get booked up months in advance.
From the mainland, you can travel from the following ports:
Ullapool, the Northernmost port, for Stornoway on Lewis
Uig, on the Isle of Skye (linked by the A87 Skye Bridge) for Tarbet in Harris, and for Lochmaddy in North Uist.
Oban, the nearest port to Glasgow and the South, for Tiree, Barra, and Lochboisdale on South Uist.
A HOPSCOTCH ticket allows you to take in a variety of islands on one ticket at a cheaper price than buying singles along the way. You only have to reserve your first outward crossing when you buy it, then you can reserve the rest along the way. In 2009, I took a Hopscotch from Ullapool to Stornoway (Lewis), drove to Harris, then got a ferry to the Uists, visited the islands there, then a ferry to Barra, then a ferry to Tiree, then a ferry to Oban. The total cost with the Airstream was about £400. Steep, but for the amount of ferry travel involved actually quite good value.
The CHEAPEST routes are from Uig on Skye. You can get a return for two passengers and an Airstream rig for just £133 to either the Uists or to Harris and Lewis. In other words, link the two with a mini-Hopscotch and you can take in nine islands for under £200. Not bad, huh? Plus the fact, the A87 road between Fort William and Uig is absolutely stunning. Drive it during daylight hours and don't rush.
The QUICKEST routes (for us Southerners) are from Oban. Granted, it's a five hour ferry crossing to Barra and South Uist, but you'll save the additional overnight stop involved in driving up to Uig from the South.
GETTING AROUND
The biggest concern of most Airstreamers, especially those with larger rigs, is getting around on the single track roads. In fact, it is as easy as pie. Personally I find the Outer Hebrides one of the easiest places in the country to tow, mainly because there is so little traffic on the road.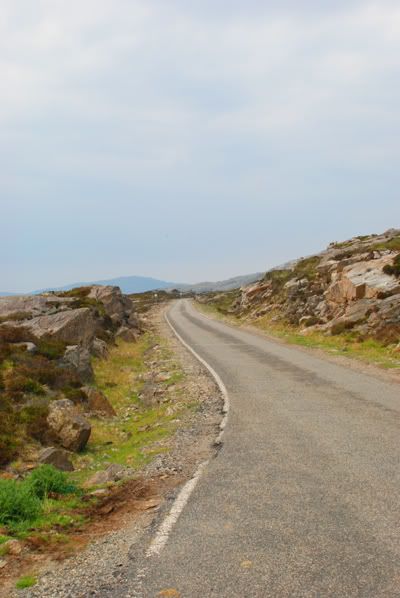 Many major routes have been or are being upgraded to two-way. Of the single track road remaining, there are passing places every few yards. In areas where forward vision is restricted (eg around a corner), the road will always be two-way.
Passing places are there to let traffic pass in both directions, so if you see anyone behind you, pull over and keep indicating (if there is no oncoming traffic) until the car(s) behind have passed. This is good for the locals who need to get about, good for leisure vehicle PR, good for your karma, and good for your blood pressure. You can continue at a relaxed pace and admire the scenery.
If someone coming the other way has pulled over to allow you to pass (they will indicate as a sign), KEEP GOING and don't think you're being polite by then stopping before passing them and waving them on. This is confusing, frustrating, and can be dangerous if there's someone behind you.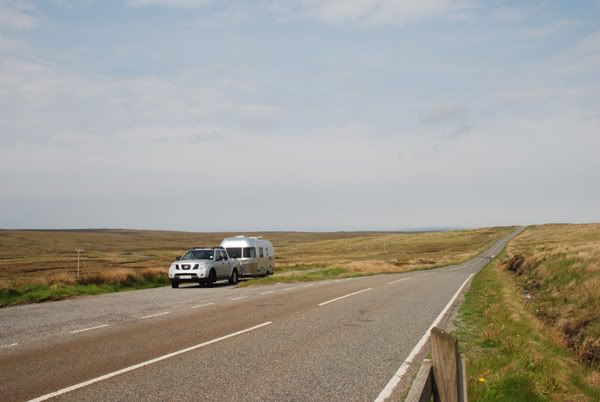 Don't forget to wave as thank you. In fact, just wave at everyone. Most people do. Even cars going the other way on a two-way road. Just wave. It's just what people do in the Hebrides and it's lovely.
Most of the causeways in the Uists are now wide and two-way. The major exception is Baleshare. This old causeway is quite narrow. I can tow my 7ft 6 wide trailer along it at about 25-30mph, but were I towing an 8ft wide trailer I would be crawling as there are jagged walls both sides. If I had a wide one, I would go solo first and take a look at it.
WHERE TO STAY
Hebrides is wild camping heaven, yes?
Er, no, it isn't.
In 2009, CalMac introduced 'Road Equivalent Tariff' pricing on many routes. In other words, it lowered the prices substantially. As a result, camper vans (which travel for the same price as a car) invaded in their droves.
This is not the place to get political about anything or point any fingers, as there are good and bad eggs in every basket. But when I visited in 2009, a story about a family in their camper van was spreading around the islands like wildfire. This family had boasted to some islanders that they had spent the grand total of £2 in their entire week on the islands. Meanwhile, certain beauty spots had been turned into eyesore car-parks of white aluminium and plastic. People weren't applying common sense, and erosion of the delicate machair was taking place. This wasn't 'light' free camping as envisaged by the Scottish Parliament when they passed the Freedom of Access laws. This was nothing more than people parking up for a free holiday and take, take, taking. It had to stop.
Wild camping with a vehicle has now been effectively banned on Tiree and on Barra. In fact, to even get a ferry ticket to Tiree, you will need to show proof of a reservation on a campsite or a camping croft.
Camping arrangements for the islands are as follows:
Lewis
Laxdale Holiday Park, near Stornoway
Laxdaleholidaypark.com. A great full-facility site making the perfect place to begin or end your Hebridean Odyssey. It can get very busy so booking is recommended, especially if you have a large rig as pitches can be quite small.
Eilean Fraoich, Campsite, Shawbost
Eileanfraoich.co.uk. I've not stayed there but it looks really nice. On the North West Coast of Lewis and handy for the Callanish Stones and the Arnol Blackhouse
Cnip
Much touted by Cool Camping and other guides, this site enjoys amazing views, but sadly the scattering of empty seasonal vans makes it less attractive than it could be otherwise
Harris
Minch View
Super little site, just like a certificated site on the mainland. Clean and simple facilities. The downside? While some may disagree, I personally would not take a twin-axle caravan there, the entrance is simply too tight
Horgabost
Once a wild camping spot, but has now become 'official'. No hook-up, and facilities in converted lorry containers. But a stunning, stunning location on a stunning beach. £10 per night per rig in 2009. Honesty box in operation.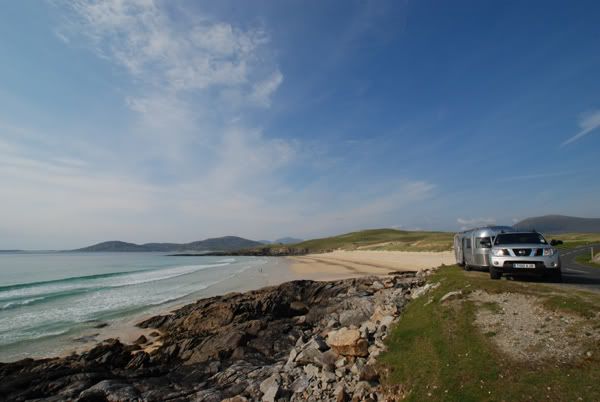 There is another campsite on Harris made famous by a hairdresser in a TV documentary, but this one is unsuitable for trailer caravans.
The Uists
Moorcroft Holidays
Situated on the South West tip of North Uist, this recently-opened full-facility site has been getting rave reviews on the forums. See 2012 update (link at foot of this entry) for further details.
Shell Bay, Liniclate, Benbecula
Not the prettiest of sites and not the prettiest of islands in the Uist chain, but a superb, central location and an ideal base. A couple of minutes walk to the beach. Facilities are adequate and EHUs available. £7 per adult (2010) plus EHU.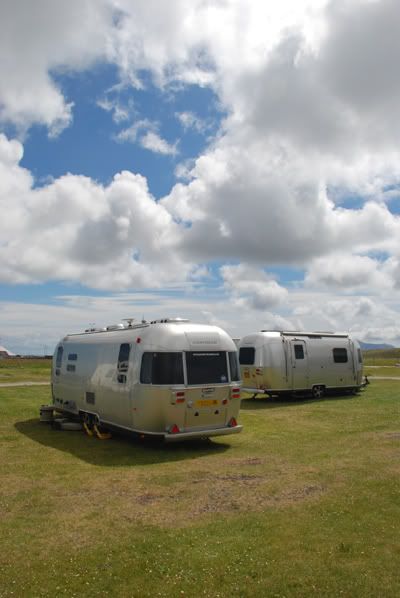 There is a hostel on South Uist that has started to advertise a couple of pitches for caravans. I have not been there but the reviews on the forums have been very poor - cramped pitches and facilities not great.
Barra
A whole host of crofts now offer a camping spot or two. For an up-to-date list, see isleofbarra.com Be warned that many of them charge £10 per rig in exchange for nothing more than a fresh water supply.
Tiree
Just one campsite, and that is Balinoe Campsite.
EHUs are actually 13amp sockets in the barn, so take a 13amp 3-pin plug adaptor and an extension lead if you can. Facilities are OK, if a little scarce. During my visit in 2009, a new shed was about to be erected with further WCs and showers.
A nice touch is the kitchen and sitting room with free wifi, so even if you opt to go without EHU you can still plug in your phones and laptop to charge.
Otherwise, there are plenty of crofts that offer camping just like in Barra. For an up-to-date list see isleoftiree.com
There are still one or two places where low-impact wild camping is tolerated on some islands. Your best bet is to begin your stay at a proper site, and drive around and seek out these places solo. Do bear in mind if you choose to wild camp:
-Seek the landowner's permission
-Leave no trace
-Preferably just one, but maximum of three nights
-If the spot is starting to get busy, find another place
-Spend what you would otherwise spend on site fees in the local community. And tell people what you are doing to try and right the wrongs of the past.
Elsan waste must not be emptied into public WCs. The Barra and Tiree websites (see above) offer advice for these islands. For the Uists, there is Elsan disposal and a fresh water supply at the Berneray CalMac ferry pier, and at the Eriskay CalMac ferry pier.
If you do find 'The Perfect Spot', please do us all a favour and don't put it on the internet. If you do, there is the chance that irresponsible people may read it, invade, and spoil it for everyone.
Please note that I have now added an update for 2012 which you can read by
clicking here.
Hopefully this little guide will help you decide whether or not the Outer Hebrides is for you. If it sounds like your kind of place, then go and enjoy. Just be warned... like many people you may leave your heart there. It means you have to return year after year to go looking for it.