Strong winds blew through towards the end of Rockhill, and I wondered how prudent it was to hitch up the Airstream and tow it up to Scotland. But thanks to the trailer's superb, slippery aerodynamics I thought I'd give it a go and the trip North passed without event.
Destination was South West Scotland, starting off at the Garlieston Caravan Club site. It's a lovely site with two distinct flavours. The 'Harbour side' as it suggests overlooks the sweet tidal harbour (small pitches, no awnings), whereas the second side of the site sits snugly in a walled garden with space enough to stretch out and put up the awning.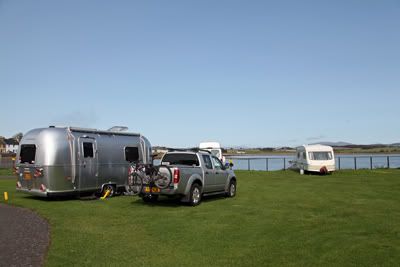 Wardens (2011) were very much a lovely couple, relaxed and jovial. But given the lack of play facilities and the presence of deep water, it's not really the kind of site to bring children.
Another great thing about Garlieston is the presence of a pub within five minute's walk, welcoming dogs and serving very cheap but filling pub grub. A fine alternative to self-catering, and a friendly place where stories are swapped with fellow holidaymakers.
Families, birdwatchers, and beach fans are better served at New England Bay Caravan Club site.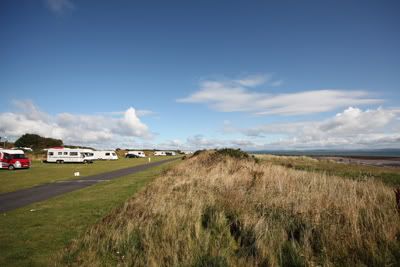 I really like this site. There are no gravel hardstandings here as the grass simply knits the rocks and shingle together, giving every pitch great drainage. This is quite a wild, rugged site with the added bonus of bordering the beach. A South-Easterly breeze blew which for me meant one thing - kitesurfing! And it was nice to have company on the water in the form of a fellow kiting caravanner.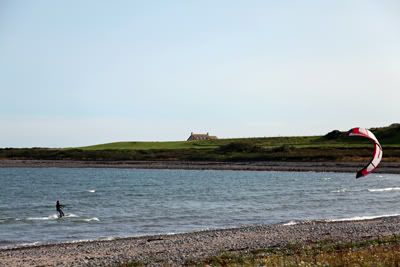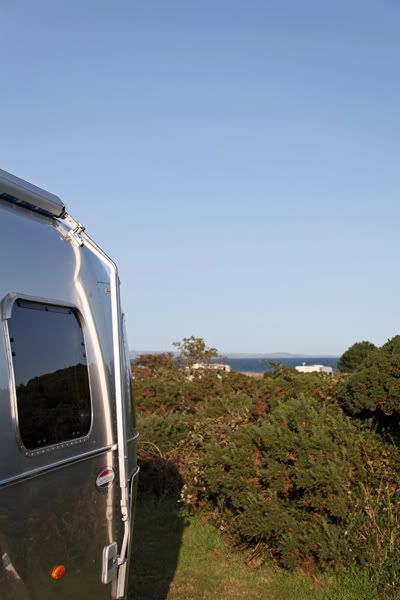 Over on the other side of the peninsula is the ridiculously pretty seaside village of Portpatrick. I spent a wonderful day there and along the coastline nearby taking snaps for the feature that I was writing.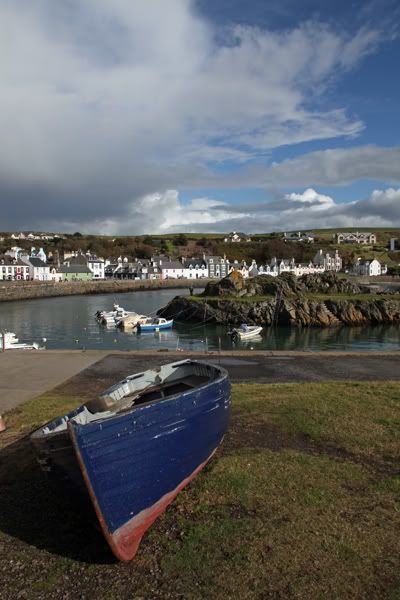 From there, it was up the coast to Maybole, notably The Ranch Caravan Club Affiliated site. We took a pitch on the periphery affording stunning views of the surrounding countryside.
It was here that I realised four months later that I had a very, very lucky escape.
It was still fairly windy, but nothing exceptional.
Now have a look at this picture of my Airstream: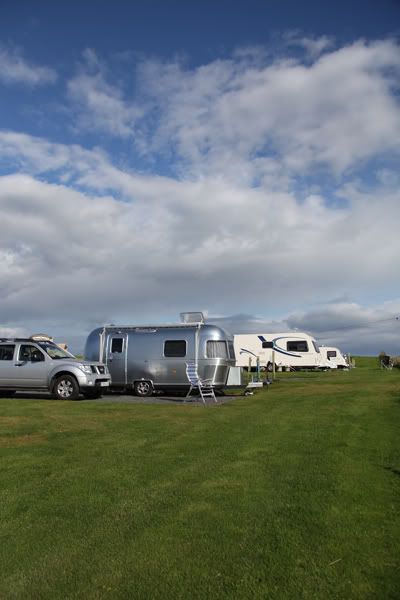 Nothing unusual about that, but notice the Bailey Pegasus behind it.
A few months later I opened my Caravan Club Magazine, and noticed on the letters page that this very same caravan was flipped over by a freak gust of wind, trapping the unfortunate occupants inside. They emerged unscathed thankfully, and they had nothing but praise for the staff at The Ranch, their fellow campers, and the CC's insurance which would replace their treasured (and now written-off) Bailey.
Had I stayed an extra night or two, that could have been me too…
But I had already moved on to a site I know well, Craigie Gardens in Ayr. It's in a great location within walking distance of the town and the railway station, offering heaps of opportunities for days out including metropolitan Glasgow or escaping it all on the Isle of Arran. I had a lovely few days here, doing my research, taking my snaps, and meeting the lovely people on site.
And, with my 'task' completed, I was free for a couple of weeks.
From my home I was already about three quarters of the way to Uig in Skye and the ferry to Lochmaddy in the Isle of North Uist.
Well, it would have been rude not to…