It seemed a little decadent in the least to be aboard the mv Hebrides heading for Lochmaddy just four weeks after leaving the islands and going back to Kent. But life is simply too short not to.
The wind continued to blow, making for an interestingly bumpy ferry ride.
Upon disembarkation, I headed to one of my favourite camping spots. Before long I was set up and kitesurfing on the turquoise sea. It was a fairly good session, nothing out of the ordinary, but then something rather special happened.
I was conscious of something in the water about 10 metres away and looked over. Up out of the water popped the head of a seal. The indignant look he gave me was an absolute picture… this pesky human skitting about on the waves was obviously scaring off the fish and making him work for his supper. After giving me a hard stare that would have made Paddington Bear proud, he submerged and no doubt swam off in a bit of a huff.
Weather was not kind over the next few days. Wind blew incessantly, whistling around the rooflight of the Airstream all night and day, and nowhere I went on this flat island could I escape the incessant blow.
This is just one of the glamorous camping spots where I tried, and failed, to find shelter: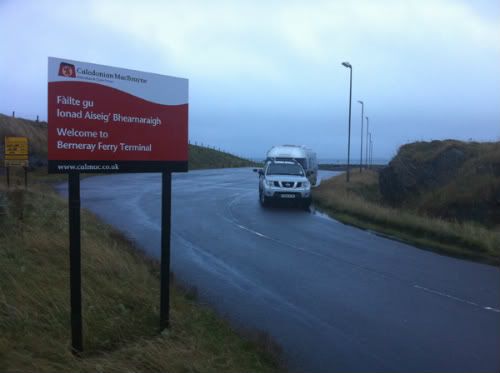 For three nights I had no sleep. Come day four I was becoming desperately delirious on lack of sleep, and started to ring around B&Bs. Yes, it was that bad.
Nowhere could I find a decent room for a decent price, but fortunately the wind subsided a little and I slept that night. Hurrah! Slowly, the feeling of being human, rather than a walking shell, returned.
A couple of days later I stopped off at 'seal point' on the island of Berneray. In all my visits to the islands, I'd always considered Seal Point to be a misnomer. I'd never seen a single seal there.
Today, I hit jackpot: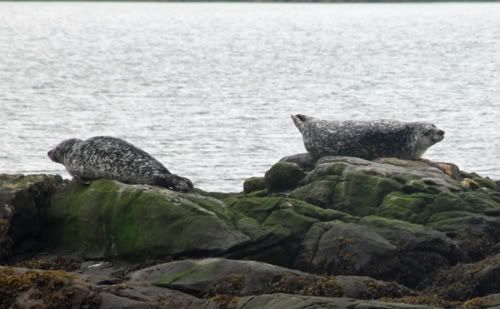 And there were LOADS more besides. Brilliant!
All too soon it was my last night so I headed off to 'my' favourite beachside camping spot. The weather hadn't been so great on this trip, but at least my final evening was enjoyed sitting outside the Airstream with the fire pit burning away.
Two amazing things then happened….
First of all, the constant cloud of the trip lifted to reveal a stunning sunset. Absolutely stunning.
The second was my company that night. On a previous trip I had met the local border collie dog who kind of belonged to someone on the island. As this was a small island, this doggy roamed the whole place at his leisure. He came and joined me, sitting at my feet enjoying the warmth of the fire as I marvelled at the raging colours of the unfurling sunset.
While this had not been the best of Hebrides trips for me, this small occurrence made sure that it ended on an absolute high.
Little did I realise at the time that this was one of many signs…