With the door finally shut on my bricks-and-mortar existence, the move to becoming a full-timing Airstreamer was a slow, staggered one. In fact, it is still very much a work in progress.
I recently met up with a couple of dear fulltiming friends, J&C, who decided 15 years ago to sell-up and live out their retirement on the road. It's always a pleasure to spend time in the company of such lovely and like-minded folk.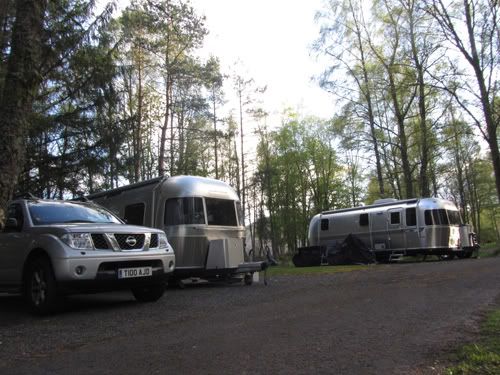 More than once at the previous UKAirstreamers' Gathering had I heard the comment 'So you're settled into fulltiming now.' Funnily enough, that comment was repeated only by people who weren't actually doing it themselves. Those who were living in their Airstreams made no such well-intentioned comment.
There are some people who seem to be able to just be able to do things straight away. You know the kind, they make a plan then just go off and do it, while everything seems to fall magically into place. If they go off on a trip, they can pack their bags in five minutes and be out of the door.
I, I'm afraid, am not one of those people. Even a simple day trip seems to take hours of planning and preparation. 'Have I got my camera? Are the batteries charged? Oh no, it looks like I need to charge the battery. What about my phone? Oh yes, that needs plugging in too. Dog stuff? Ah yes, the poo bags, the kitchen roll and antiseptic wipes in case of accidents in inappropriate places, the water bowl, the travel towel, the lead… I must remember my train pass. And my wallet. And a water bottle. And a flask. And a bag of treats for the dog. Will we be out long enough I need to take the dog's dinner too? And some snacks for me in case there's no cafe on the way. Not forgetting of course the laptop or iPad. And the internet dongle. And the charger lead. Phone charger! Have I fed the rats…?' And so on, and so on.
Such activity can be surmised as the art of faffing. And my goodness, I can faff. I can faff for England. Some people are slick, but I faff.
When slick people start their full-timing lives, I envisage that they lock the doors of their homes, drop the keys at the estate agents, hitch up their Airstream. and off they drive into their new lives with barely a passing thought to their previous existence. How I wish I could be like that. But I'm not.
It turns out that J&C had two years (two years!) living in a static caravan getting themselves prepared and set-up for their life on the road. I didn't feel so bad about the fact that, three months into my new life, I still felt in a complete state of turmoil.
Not emotional turmoil I hasten to add. Almost four months down the line since giving up my house I'm still 100% content and confident that this is the right thing for me to do. But there is still quite a lot of STUFF to sort out. Stuff...that tedious, heavy, dragging anchor of material possessions that is slowly dwindling, but doesn't magically evaporate when you hit the road. Granted, I could just take three months out and deal with it. But what a waste of springtime. And a man needs to work of course. I still need food on my plate and diesel in the truck.
It was early February that I moved out of my house and into the Airstream. In just over three months I'd say that I'm well over half way there. But I reckon it will be February next year at the earliest that I'll be settled into it with something approaching the kind of slick minimalism for which I ache and yearn.
It's a slow process if you have a life to lead while you're doing it. It took 25 years to build up the amount of stuff that I need to deal with. To have it sorted in a little over 12 months is actually pretty good going when you look at it that way.