Welcome back after the break.
Right now I'm in the Airstream having just enjoyed an awesome kitesurf session at Camber Sands. I'm on a Caravan Club site ready to do a review of a yet-to-be released tourer that is embargoed for another two weeks. So I have to try and prevent the other 150 or so other carvanners on site photographing said tourer over four days. Meanwhile, one of my delightful pet rats, Chalkie Le Blanc, is busy pulling the throws off the seats.
But I digress.
So, April, and my summer of living in the Airstream had begun.
Commons Wood Caravan Club Site in Welwyn Garden City made an excellent place to kick off. It's only a five minute cycle ride to Hatfield station from where it takes about 20 minutes to reach King's Cross by train.
After my date with Her Most Loveliness Dame Kylie of Minogue at the O2, it was time to get back to work and take a close look at a Stealth Caravan.
People disbelieve that either Stealth or Airstream caravans even exist as they never see them on site. So imagine people's surprise if they saw this sight - both brands side-by-side!
And, like number 10 buses, a silver-nosed Stealth pulled out of storage while I was there.
After that, it was time to haul the Airstream to Newark showground for a task of a very different kind. I was one of four driving judges putting over 50 motorhomes through their paces for the Caravan Club Design and Drive Competition. It was a demanding, but fun, week. And I started to 'get' motorhomes. I mean, maybe I could tow the Airstream with a silver camper van where I can fold up the bed and bring the motorbike… then I would have a day van too. Hmmm…..
The competition ran into Easter weekend, so off I toddled down the road to Ferry Meadows Caravan Club Site. Remember the weather at Easter? It was amazing. Sunny, warm… The atmosphere on site was heavenly. Children were playing, families were laughing, and everyone was enjoying themselves. It was utterly perfect.
From there, it was time for an altogether different camping experience at Dunn St Farm Camping and Caravanning Club Certificated Site, near Ashford in Kent. I took the field where access was… interesting. Thank goodness I had the mover to unhitch and get the trailer in. But once settled, it was fantastic. Children bottle-fed the orphaned lambs, trees were in full blossom, and there was a 'proper' country pub serving good food and real ale just five minutes walk away.
While I was there I took the opportunity to try out my new Nordic Outdoors folding fire box that I bought at the NEC: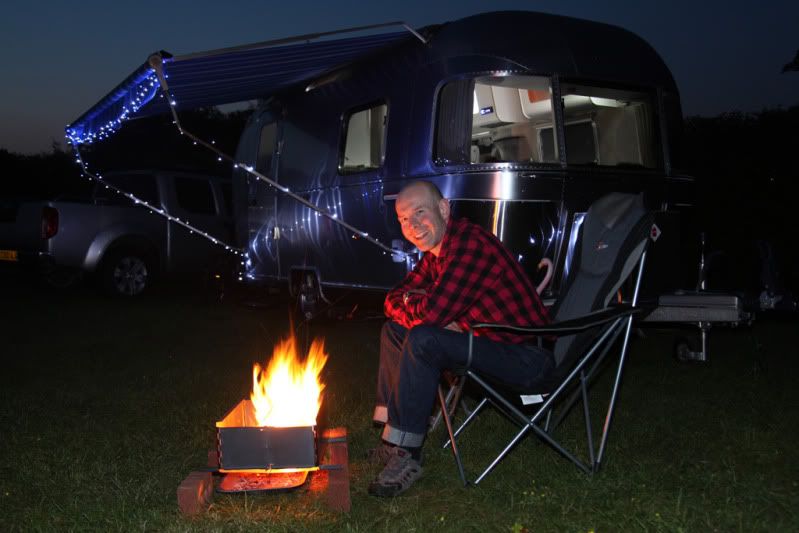 Verdict? Not so good I'm afraid. It's impossible to get it elevated enough so that it doesn't burn the grass underneath. But the holes in the base do make for a roaring fire!
After a wonderfully relaxing week (apart from having to do the day job, but we try not to think about that) May was upon us and it was time to hitch up and head off.
Cue the next video:
The weather was still incredibly kind. First stop was Gent, a wonderfully majestic Flemish city. Camping Blaarmeersen, a most pleasant full-facility municipal site, is a mere 15 minutes cycle ride from the town. Next stop was the coastal resort of De Haan. De Haan is, in my opinion anyway, the nicest town on the Belgian Riviera. It suffers none of the over-development of other Belgian coastal towns, and none of the airs-and-graces of others. Camping Ter Duinen is highly recommend. Lawrence, the owner, loves Airstreams. But more importantly, the campsite is clean and tidy, and a mere 400yd walk through pine forest to a wonderful sandy beach: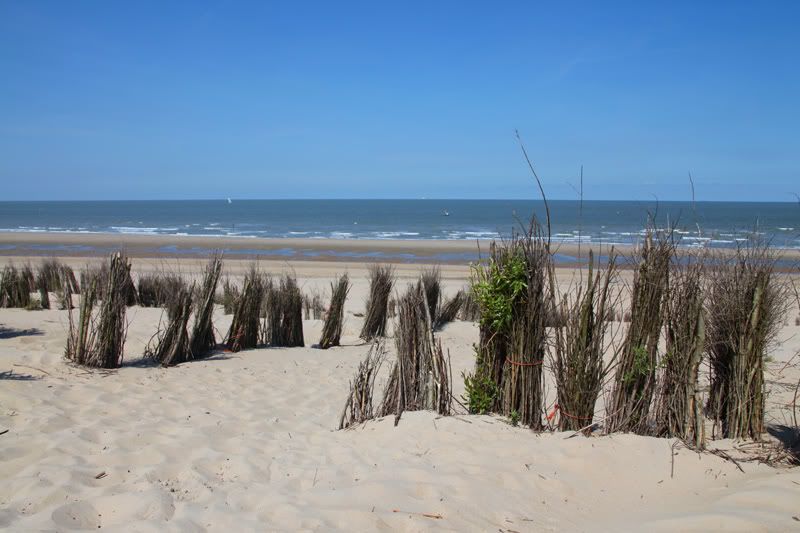 That could only mean one thing. Kitesurfing!
And afterwards? CAKE!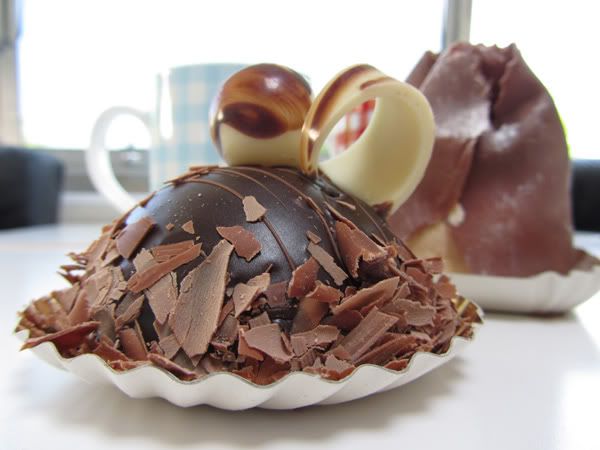 Altogether a brilliant short break, and in true tradition was nowhere near long enough. But it was time to head back to the UK and to Bearsted Caravan Club Site. I had a caravan waiting for me.
Having enjoyed the original incarnation of the Bailey Pegasus (remember Switzerland?) I was more than ready to take away the new Pegasus 2 for a week. And it didn't disappoint.
Destination was Kingsdown International Camping Centre near Deal. Formerly a scout camp, facilities are… well, 'rustic' is a good term. But they are clean, free hot showers, and painted in funky colours. And, when you're paying just £6 per night, who's complaining? Especially when
this
is the view.
My family and I very much enjoyed our time together in the Bailey, but it was nice to get back to 'Auntie Sue's' gaff (aka Bearsted) and move my goods and chattels back in to my usual home.
From Auntie Sue's I headed to my 'hideout' CL which I'm afraid remains secret. It's £4.50 per night, I can use my fire pit, and there is always space even during busy periods. I *might* reveal it at the end of the season…
I went home for a couple of days, did the washing, did the admin (or at least the bare minimum I had to do without getting anything cut off or being sent to jail) and then it was time to once again head off and away.
First stop, just like last time, Commons Wood….