You know how it can happen when, at a social function when you're lubricated with a glass or six of vino de plonk, and someone comes up with an idea to which you pledge your wholehearted support? Then, weeks later when you're sober and pray that everyone's forgotten what you said, someone reminds you of your promise in front of a hundred people and there is no way of wriggling out of it?
Well, that kind of sums up how I ended up co-ordinating a caravan (convoy) of UK Airstreamers from the UK to a big Euro Gathering in the Netherlands.
If you flick back a year or so in the blog, you'll see how about eight or nine of us got together in Yorkshire joining two Dutch Airstreamers. There, we mooted the idea of doing it again in 2011 in the Netherlands. We reckoned that we would have about 5 or 6 Airstreams heading over from the UK, and the sum total of the Gathering would be about 12-15 rigs.
As it happened, I ended up leading 15 Airstreams from Gent to Venlo, where we made a Grand Total of about 35 rigs. EEK!
The first wave of UK Airstreamers all met up at Daleacres Caravan Club Site in Hythe, where we made an impressive sight as we lined up to leave:

All our travel arrangements, the ferry and the Red Pennant Insurance, were arranged by the Caravan Club. Organising the event was difficult enough, so I was so grateful for the Club taking care of the important stuff in such a hassle-free and efficient manner. Absolutely brilliant service. And cheaper ferry fares than booking direct.
The convoy of nine trailers to Dover held together well, but sadly we were split up (despite promises to the contrary) in the port. In fact, after arrival in Calais and I was almost the last one off the ferry (me, the lead vehicle), it seemed that the crew were doing their upmost to be as difficult as possible.
Fortunately we all managed to reassemble and pick up a tenth member as arranged just outside Calais.
First call was back to Gent, to Blaarmeersen. Now it all becomes clear why I went there two entries ago.
In addition to organising stuff and looking after myself, I had also taken on the task of making a TV programme about our adventure. As I tried, and generally failed, to do the work of three people on my own, I reflected that maybe this wasn't such a good call.
The atmosphere was jovial but a little quiet. I think that it was all just a little bit overwhelming, and we were trying to cram a lot of fun into a short space of time. And for many of us, this was just the first of many weeks abroad, so it had been preceded with some seriously mad rushing around making sure that everything was in order back in the UK before heading off.
On the last evening, in true tradition, we sat around the fire pit and I was presented with a little token a and card for my efforts, which was a really touching gesture.
But the next morning was the biggie - heading up 15 rigs from Gent to Venlo. Three of the rigs were joining us en route, of which one was even going to 'slot in' on the move.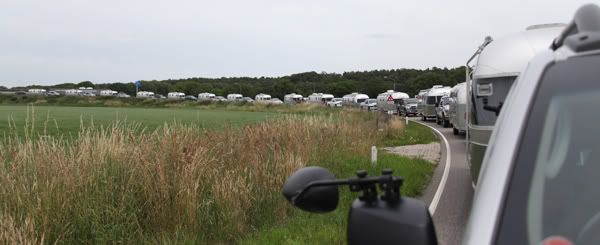 Everything went swimmingly, although we will never forget the horrendous nightmare that is the Antwerp Ring. And people moan about the M25? It's a picnic compared with Antwerp!
The weekend itself was brilliant. The atmosphere was just amazing. People from all walks of life from completely different backgrounds and different cultures and countries all getting together, enjoying a common bond, and having a wonderful time.
Naturally, there is a video for you to watch. In fact, there is not one but three different videos!
Three very different interpretations of the same event seen through English, Belgian, and German eyes.
First off, my British video which visualises what you've just read:
Then there is Aline from Belgium's video:
And finally, Armin from Germany's video:
Altogether a truly memorable weekend.
Roll on the next one!