After the exertions of the Euro Gathering, it was time for a bit of R&R. A days driving North took me to the German city of Oldenburg. I parked up at the municipal site and spent an entire week catching up with my very dear old friend Peter.
Peter is the perfect host. For every meal we sat down to, there was enough to feed an army.
This was a typical light breakfast:
Or possibly a little pizza for dinner: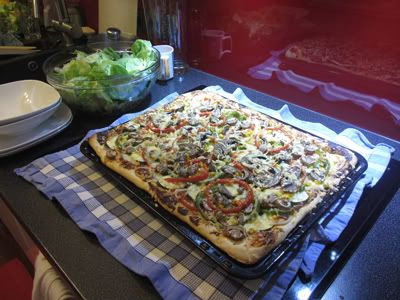 We spent the entire week just faffing about, mainly taking his beautiful Great Dane Anne for long walks in the Upper Saxony countryside:
And a daytrip to the lovely city of Bremen:
And dinner in funky restaurants in Oldenburg:
Waiting for the level crossing, I spotted this novel idea of a moveable living space using recycled containers - looks cool!
It was a fantastic week.
From there, I headed to the North German coastal town of Norddeich, just North of Norden near the border with the Netherlands. I was hoping to get a little kitesurfing in.
The site was pleasant enough, but… well, let's just say that it didn't FEEL right. You know what I mean. The coastline in the area is hugely overrated. There is grass verge, and at low tide there is mud. It's not pretty. The site was OK, but the very expensive wifi system did not cover every pitch and I had to use the laptop outside in the children's play area… and I 'lost' a whole day trying to do my laundry, the machine breaking, and the reception being closed till 3pm.
Oh yes, arrivals were only accepted between 3pm and 6pm. And to stay on after the midday check-out until 2pm (even though arrivals were not accepted till 3pm) would incur a whole extra night's fee. All this was carried off with an air of superiority and smugness like you wouldn't believe. And it got hot. Really hot. Here's a pic of the Alde control in the Airstream. This is reading 34 degrees inside, and 30 degrees outside.
As you can tell, this is not a place I will be coming back to. Ever.
I guess what made it even worse was that I knew that my Airstreaming friends were having a jolly good time parked up in the yard of our Dutch friends Axel and Annieta.
So, there was only one thing left to do, and that was to join them.
What a FANTASTIC weekend!
In addition to Axel, Annieta, and their family, there ended up with three UK Airstreams and two NL Airstreams in their 'yard' enjoying an impromptu gathering. And I found the North East corner of the Netherlands to be a lovely, lovely, place.
We had A LOT of fun:
Sadly though I had to leave after the weekend. I had a 'job' to do in Belgium. And that's another story…