After the brilliant and moving stay in Ieper, I was half hoping to get to Brittany for a week, but family admin got in the way so I ended up on P&O's super Spirit of Britain heading back to the UK. Mind you, I was well chuffed to spot a 1969 Bailey Maru and a dinky little T@b in the queue for the ferry.
Back in Blighty, I ended up frequenting my usual CL and CS haunts in the South East while doing family stuff and going to work at the day job.
One caravanning task while back was to review the Mitsubishi Outlander and the new Swift Challenger Sport for the magazine, both of which are now published so I can blog about them.
For the exterior pix I decided to try out the 85mm 'prime' lens for my camera, a Canon EOS 5D MkII. The results were utterly amazing. It looked almost as if the outfit was superimposed on a background: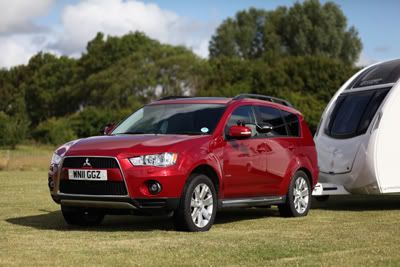 Absolutely stunning quality. I felt that I'd been driving a Porsche at 60mph and for the first time had opened it up on the open road. Trouble is of course, now I want to upgrade the rest of my lenses…
August saw me back at the Caravan Club Site in Alderstead Heath:
Of course, that meant a cream tea at Fanny's Farm Shop, a Surrey institution: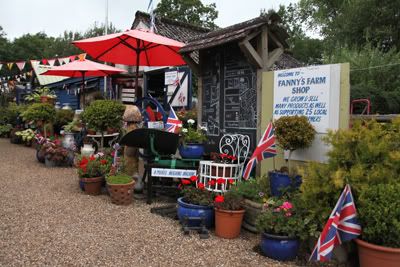 After that, a trip to the Caravan Club Site at Crystal Palace.
Now, you may recall in the entry about Ieper that sometimes I end up going to places that I'm not really excited about, only to find out that they are brilliant when I get there. Crystal Palace is another case in point.
I didn't fancy towing the Airstream around the South Circular through Catford, but it was no bother. And I fell in love with the Crystal Palace site! Not just because it is handy for London, but it is right next to a lovely park, and there are some superb independent shops and cafes in the area. I really, really enjoyed my stay and it's now on the list of places to return to.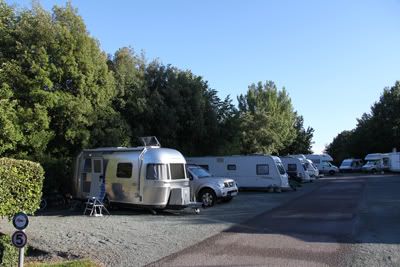 After my week in London, I had 10 days off. The intention was to go to Brittany as planned in July. But the cost of the direct ferries was prohibitive, so it was to be DFDS via Dunkerque or nothing. And to go from London to Quimper via Dunkerque was 460 miles. The same distance would also get me to Oban and a ferry to the Outer Hebrides.
I umm'ed and ah'ed, but deep down I knew what the 'right' decision was going to be….